Event Hire Equipment Delivered & Setup By Event Professionals
Who Is The Helping Hand Service For
The helping hand party and event service is for those people that need some help with the delivery and set up of their event hire equipment. They are usually happy to do most of the planning work and only require help with the equipment hire aspects of their event. In some cases you may only need some equipment advice so that you can create the look and feel you are trying to achieve.
This service is for those people spending a minimum of $500 on equipment not including any labour or delivery charges.
Why Choose The Helping Hand Service
The main reason most people choose the helping hand party service is they want to save money and some of their time by getting help with the harder aspects of their event. Planning and putting on a party can take a lot of work and getting some help may just make the whole experience alot more enjoyable.. Don't miss out on the fun side of your party because you were too exhausted to enjoy it. One of our best party tips for a stress free event is dont try and take on everything yourself.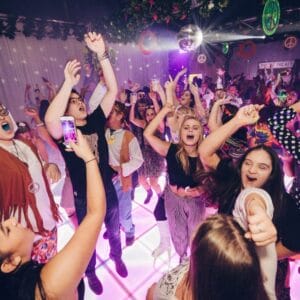 YOUR EVENT SPACE TRANSFORMED WITHOUT YOU LIFTING A FINGER
THE HELPING HAND EVENT SERVICE
A Stress Free Solution To Event Product Delivery & Setup
PEACE OF MIND
Don't get stressed on the day of your event. Your hire equipment will be delivered & setup well prior to your event starting. You will be kept informed with your delivery status and will be notified when the driver is on their way
SAVE TIME & MONEY
Save time by using our professionals to deliver and setup your equipment directly into your venue. Save money by organising the venue and doing all the planning yourself
DIRECT CONTACT WITH VENUES
Have you hired a function venue? You won't be the middle man in relaying information between venue contacts and us. Our team will deal direct with the venue staff to make sure there is no issues with your delivery on the day.
EXPERT ADVISE
Receive valuable help from our Partyologist's on equipment selection, layout, format and much more. Professional party planning advice and Do's & Don't of throwing a successful event will also be shared with you
SETUP BY PROFESSIONALS
Experienced staff members will set up your equipment and decor you select. All you need to do is enjoy the atmosphere that your decor will create.
EMERGENCY SUPPORT
A support contact number will be left with you if any issues arise after our event installers have completed your setup up and left your venue
OUR GUARANTEE
If your event equipment is not set up by the agreed start time we will refund in full the set up labour costs that were charged to you
WHAT DOES THE HELPING HAND SERVICE COST?
The Helping Hand Service is for people who are willing to spend a minimum $500 on hire equipment for their event. Delivery & Setup Costs are extra charges which are based on the below factors Delivery Costs: Based On Location, Vehicle(s) Needed, Staff Required & Venue Access Setup Costs: Based On the Type of Equipment Needing to be setup, access into the venue and if styling is needed Because each event is unique, and requirements and locations are always different, Feel Good Events cannot provide a set price for our Helping Hand Service To receive a quote with delivery & setup charges please scroll down to either complete an enquiry form or call us directly. Help With Equipment Choice is a complimentary service Feel Good Events Provide. We want you to have the best party experience possible
Our Event Was FANTASTIC. I was so happy with how everything turned out. The staff setting up and packing up were great!
LET'S GET STARTED
What Do I Do Next?
Submit A Wishlist
Browse our Product Range while adding the equipment you are interested in into the Wishlist. Then complete the Wishlist form, ask any questions/requirements you may have & submit the form for our review
Complete An Enquiry
Need help selecting event equipment? Click the below link to tell us about your upcoming event & to submit a General Enquiry Form. Our Partyologists will be in touch with you as soon as possible