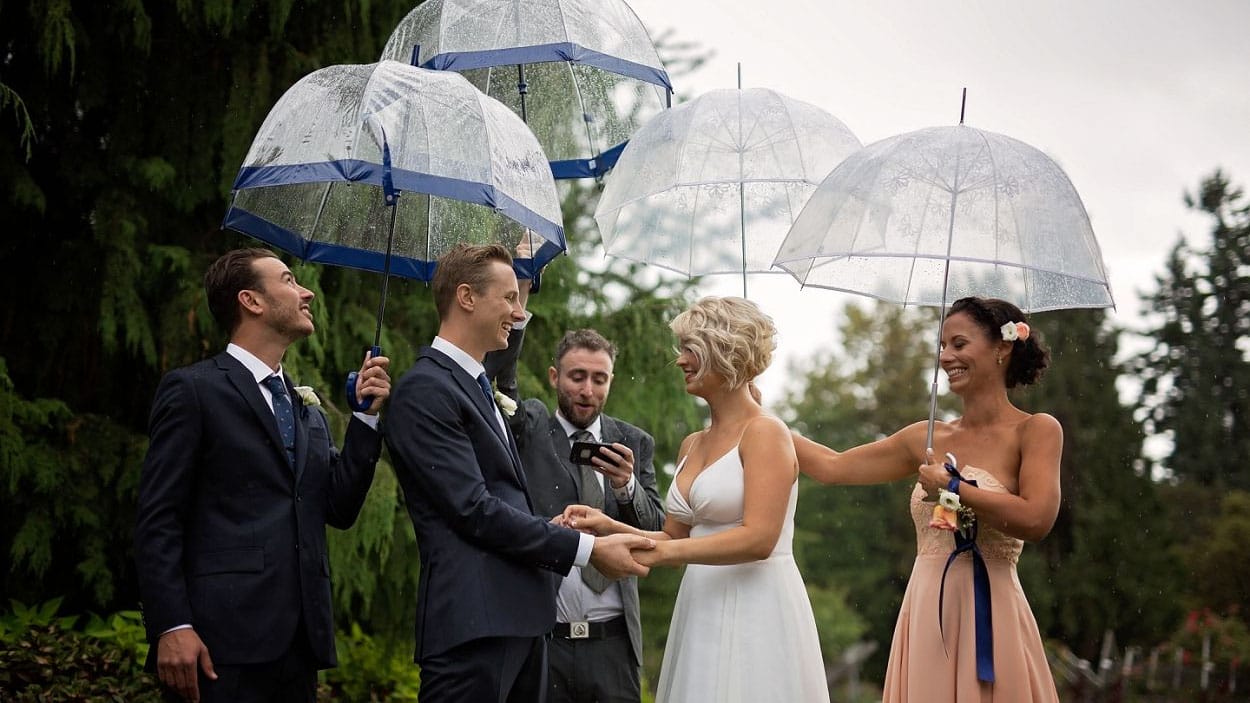 Outdoor, Garden & Beach Weddings are becoming increasingly popular. The surrounding scenery adds to the atmosphere and creates the perfect backdrop for photos.
The downfall to outdoor wedding ceremonies? Mother Nature and the rain, winds, heat or cold she can unleash on your special day.
Don't let her get the better of your wedding.
Here are a few simple tips to keep in mind when planning an outdoor wedding.
Tip 1 – Always Have A Contingency Plan In Case Of Rain, Cold, Heat & Wind!
Outdoor weddings and events are very popular and can work very well if everything goes to plan. The problem is you can control most things to do with your big day but you can't always control the weather. Too many weddings and events have been ruined because there was no contingency plan for bad weather.
It will be money well spent if you book an alternative venue or organize a marquee just in case the weather turns bad. Guests have been known to skip out early from hotter-than-hot summer marquee weddings and improperly heated winter receptions.
Tip 2 – Consider Pests
Bugs, flies and mosquitos also swarm in certain areas during certain seasons. Consider pest control options to alleviate the problem or include bug repellent in guests' gift bags. If you are planning a sunset ceremony, make sure you know when to say your vows by checking sunset times in your area.
Getting the creature comforts right could make a big difference on whether your guests leave at 8pm or party all night.
Owner, Partyologist and DJ for over 25 years who is very passionate about parties and events. Marcus has played at more parties and events than he can count so he know's how to get the party started.
All author posts