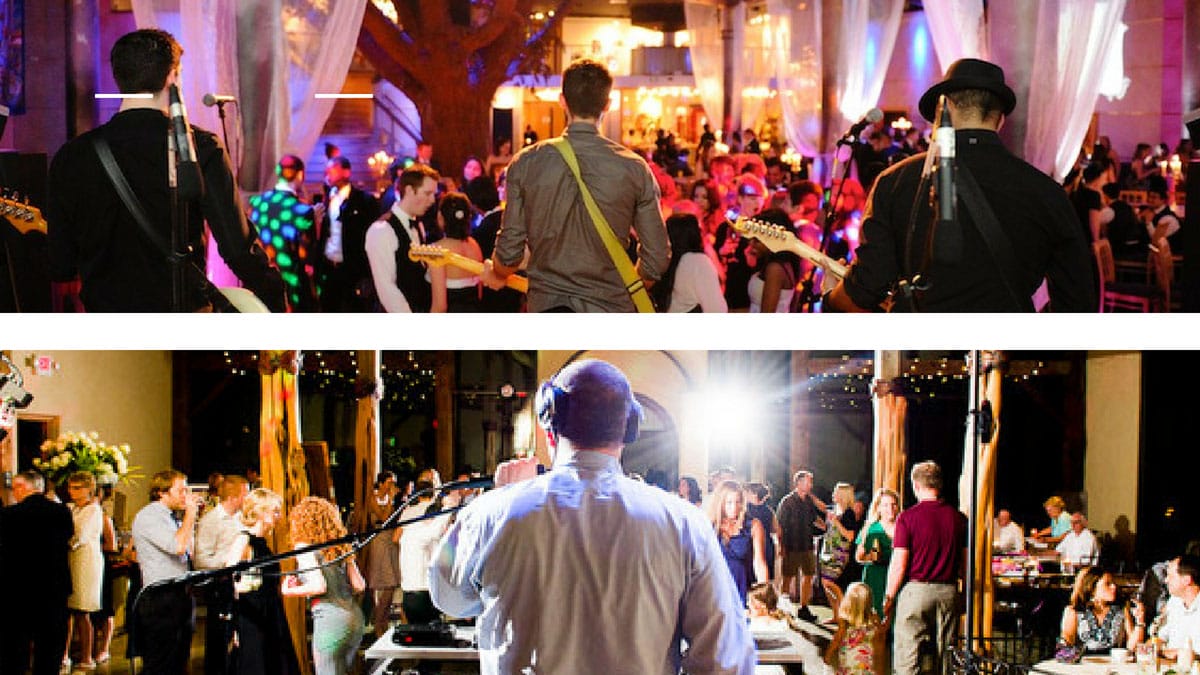 When it comes to choosing entertainment for their party, wedding or event many people struggle with the decision of whether to choose a band or DJ. Music is the backbone and soundtrack to your event and can mean the difference between your event being a failure or success.
In this article we look at the pros and cons for both and hopefully this will help you with your choice when choosing entertainment for your event.
Band Pros
A band will usually create a better emotional connection with the crowd

A band can help energize the dance floor with both vocals and live instruments

A band can act as an MC as well as encourage dancing and crowd participation from the lead singer
Band Cons
They take up a lot more room and can look messy with the amount of equipment and leads they use

They take longer to set up and pack down

They cost more to hire than a DJ

They have less control over music volume

They may be restricted to the types of styles and songs they can play

They need to take breaks every 30 minutes which will loose energy on the dance floor

They can make your favourite song sound terrible

Less likely to be able to play your guests requests

Every song will have a gap in between
DJ Pros
The good DJ will usually have a a wide variety of music styles and song choices

A good DJ will be able to read the crowd and adjust the style and tempo of the music to match the energy of the room

A good DJ will be able to play requests

A good DJ will have the versatility to be able to change the style of music if it is not working with the crowd

DJ's usually cost a lot less than a band

A DJ will take up less space in your venue and if power is an issue will usually use less
DJ Cons
If you are unsure of the DJ's music selection he may not have the songs you want on the day

If the DJ is an introvert he may not bring any additional energy to the dance floor

The DJ may have no idea on reading a crowd and just play the music they like

The DJ if asked to MC may not have these skills and sound flat
Verdict
As far as cost and versatility a DJ will be better but can lack the energy that a good band can bring to your dance floor. In my opinion you have 2 options. If money is not an issue hire both a band and DJ for different parts of the night. If money is a bit tighter go with a DJ as they will give you more playing time, versatility and all the songs will be the originals.
I would strongly suggest not setting up a playlist on your phone or laptop and connecting to speakers unless you want more of a low key event. If you are happy to babysit the music all night and dancing is not important to you then this could be an option.
So there you have it, there is good and bad about both and trying to decide will depend a lot on your budget, event style and music taste.
Owner, Partyologist and DJ for over 25 years who is very passionate about parties and events. Marcus has played at more parties and events than he can count so he know's how to get the party started.
All author posts