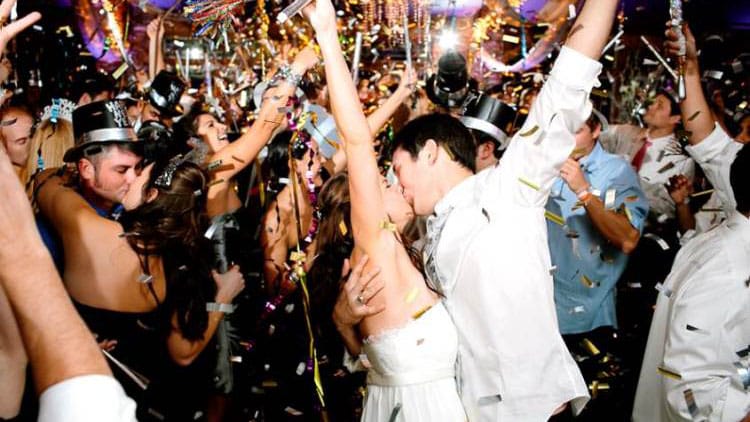 If you want your wedding to be one that your guests talk about for years you need to plan for good party energy.
Have you ever been to a party, festival or nightclub and you are on the dance floor or in the crowd and the place is just buzzing? Everyone is dancing, going crazy and jumping up and down. This is good party energy!
Have you ever been to a party where everyone is sitting down, on their phones? Maybe standing around a fire or just chatting with very little happening? This is bad party energy!

So how do you create good party energy at your wedding and why is it important?

Good party energy is important if you want to create a wedding to remember. If you think about any good parties or events you have been you will most likely remember the ones that were going off!  They are memorable because the guests were having fun and you could feel the good vibes in the room.
Party energy is important as it will help your guests feel connected, feel happy and most importantly feel good. When ever I am putting on my own parties or events from the very beginning of my planning I am thinking of what I can do to make sure the party has good party energy.
Below are some ideas on how you can plan for and create good party energy at your wedding:
• Party Energy can be created in different ways. The best ways are if you provide entertainment and ways for your guests to interact with each other.
• Stimulating your guests 5 senses in as many ways possible will guarantee that your wedding is one that people won't forget (for all the right reasons).The more ideas you can come up with to stimulate your guests five senses the better the party energy.
• The biggest problems weddings have is they are usually sit down dinners which will always lower your party energy. Cocktail style will work better for the reason that it will keep your guests moving.
Not overloading your guests with food so that they don't want to move off their seat will also help.
• Set up your venue so that it keeps people together and you will find it easier to create great party energy. Your guests dancing, mingling and moving around will create lots of energy. Your guests sitting down eating and drinking all night will create a lot less energy. If all of your guests are in separate rooms the party energy will be low unless you have lots of people at your wedding.
• Roving entertainers, photo props, sweet and food stations, party props ,visual stimulants like video screens, party games are all a great way to create energy. Not all guests want to dance so give your non dancing guests something else to do to keep them entertained and not just sitting at a table doing nothing.
• Giving your guests something to do even if it is as simple as using a photo booth will set you on the right track to creating party energy at your party.
Owner, Partyologist and DJ for over 25 years who is very passionate about parties and events. Marcus has played at more parties and events than he can count so he know's how to get the party started.
All author posts