Why It All Began
From my very first experiences with nightclubs and parties I was hooked. Not only did I love the music but the energy from these parties just blew me away. I remember so many times sitting in the grandstand of some of the bigger festivals and just absorbing the energy coming from the dance floor. 1000's of people dancing and the energy from the crowd, music and lighting was just incredible. At this time I started DJ'ing at a few friends parties on the weekends and my life of parties began.
A New Direction
After DJ'ing at all kinds of private parties, clubs and festivals for a few years I finally decided to make a career of it. After about 3 years I had built up enough work for myself and my other DJ's to do it full time. After about 7 years of being a stay at home dad and working on my business I finally got both my kids off to school and decided to take my business to the next level. At this time technology was changing and the rise of I pods and personal music devices was starting to change the way people played music at their parties. This change in technology made me evaluate my business and in 2008 Feel Good Events Hire was started.
We Grew Up
After the first 5 years of Feel Good Events Hire we decided again to change the direction of our business and take a more overall approach to our events. We realized that with the equipment and ideas that we had we could help our customers not only create parties that they would remember but parties that they wouldn't forget. We realized that most people put on boring parties simply because they didnt really know what the key elements were in creating an awesome party experience.
Looking Forward
Our challenge is to find better ways to educate and inspire our customers to care more about their events and throw EPIC parties. Feel Good Events is helping our customers with all aspects of planning so that their events is a success and stress free.
"We create a feel-good atmosphere that makes our customers Feel Good.."
Owner
Meet the person who started it all!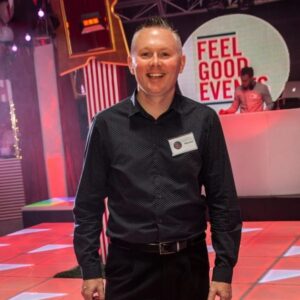 Marcus
Owner, Partyologist and DJ for over 25 years who is very passionate about parties and events. Marcus has played at more parties and events than he can count so he know's how to get the party started.
Our Office Team
Meet our dedicated administration team. All your enquiries and calls to Feel Good Events are answered by one of our experienced and committed team members.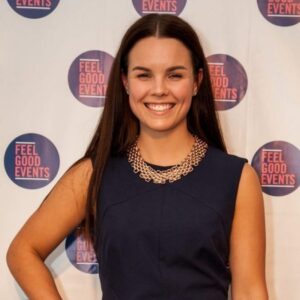 Emma
General Manager & Partyologist. Emma lives and breaths Events. Not only does she run the day-to-day operations of the business she over-sees all Feel Good Events' major events. Emma has a very keen eye to detail, a perfectionist and is extremely dedicated to her job. This is all backed up by a degree in Event Management
I Love Working In Events Because:
Events has always been a huge passion of mine! From organising a small get together to a large scale corporate event for 300 people it's always exciting and different from the last. My absolute favorite thing about this job is watching the clients face when they enter the room for the first time, its makes all the blood, sweat & tears worth it!
Specialising in:
• Bar / Bat Mitzvahs • Weddings • Major Setups & Theming Projects
Bethany
Senior Event Planner & Partyologist. Bethany is the first point of contact for the majority of our clients and provides a helping hand with that first important step in clarifying what our clients would like to achieve with their event. Through her many years of customer service and event planning & delivery, Bethany has developed an impeccable eye for detail and has an approachable, personable and caring nature, which shows through in every interaction she has with her clients.
I Love Working In Events Because:
We have the ability to make people's ideas and dreams come true
Specialising in:
• Themed Events • Birthday Parties
Hayley
Senior Event Planner & Partyologist. Hayley has picked up and gained valueable knowledge about hosting a successfull event throughout her 10 years of working within the events industry. Together with extremely hard working, dedicated & passionate about her work, she has all the right tools to ensure your event is a huge success
I Love Working In Events Because:
I love seeing the clients vision come to fruition and surpassing all their expectations
Specialising in:
• Corporate Events • Themed Events
Eric
Marketing Coordinator. Eric has a marketing and digital marketing degree. He sits behind the scenes and manages the both Feel Good Events' websites, social media, email marketing and all aspects of content creation. He is passionate about branding and is also an experienced photographer and videographer.
I Love Working In Events Because:
Seeing a customers vision come to life
Specialising in:
• SEO • Website Management • Social Media & Email Marketing
Our Warehouse / Installations Team
Meet the devoted staff managing our inventory and delivering and setting up your equipment.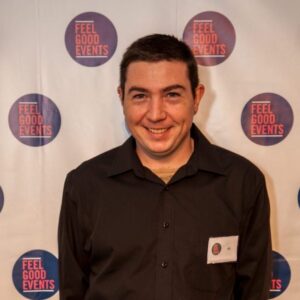 Al
Senior Event Installer Al has a wealth of knowledge in event setup and venue access from being with Feel Good Events for over 5 years. His main role is to manage the install and setup of major events. He is a forward thinker and takes time management and contingency planning seriously. He is very passionate about his work and ensures everything is in perfect working order and in its right place for your event.
Specialising in:
• Major Event Installations • Onsite Setup Management
Breearna
DIY Hire Manager. Breearna manages the DIY component of Feel Good Events. She is the friendly face you see when you choose to collect and return your hire equipment in your own vehicle from our warehouse. Breearna is always willing to help you with any questions you may have about any equipment hire.
Specialising in:
• DIY Hires • Customer Service & Face-To-Face Support
Nicole
Installations Assistant. Nicole has a high attention to detail and will ensure your event is decorated and styled to perfection. She is always on site for more stylised events and provides the delicate final touches to make your event stand out.
Specialising in:
• Styling & Decorating • Major Event Setup & Install
Rose
Installation Assistant. With 2 years of experience within the events industry Rose has the experience and knowledge of equipement and product placement to ensure all the equipment you have hired are in thier right areas for maximum effect.
Specialising in:
• Product Placement • Setup & Install Assistance
Tristan
Installation Assistant. Tristen is a valuble asset to our installations team. With 2 years of being in the events industry he thinks out side of the box and provides beneficial assistance with event setups.
Specialising in:
• Setup & Install Assistance
Justin
Installation Assistant. Justin has a solid history of assisting with installations and event set-ups. Justin is brought in to help with the team on larger scaled events.
Specialising in:
• Setup & Install Assistance
Bernie
Installation Assistant. Bernie assists with setups and installations. She is very hands on assists with every aspect of the installation and setup process
Specialising in:
• Setup & Install Assistance
Casuals
We employ a number of casuals during our busier periods during the year. All our casual staff have event experience and are thoroughly prepped and advised on their tasks before arriving on a job site to assist in the installation and setup of your party, event or wedding.
Clients We've Worked With
Let's Get Started Planning Your Event
Select An Event Service Below Based On Your Needs