Outdoor Furniture Hire Melbourne
Planning an Outdoor Party or Wedding and Need to Hire Some Furniture ?
No problems Feel Good Events has you sorted with furniture for hire that is suitable to use outside. All furniture available for hire can be used outside but some can only be used if the weather conditions are perfect. If you have cover over where your furniture is set up there are no restrictions on what furniture you can use.
Various style of outdoor furniture is available depending on the type of party you are having and the look you want to achieve. Make sure you hire enough furniture for at least 30 to 40% of your guests if it is a cocktail style. If you are planning a sit down function you will need enough chairs and tables to seat all guests.
Make sure you consider the ground surface as well as some furniture items may not suit and maybe unstable. You may also need to consider both lounge and bar furniture for your outdoor events for different age groups and to create different heights to make your party more interesting.
If you need help with what furniture to hire and is suitable for your outdoor event please contact our office.
Showing all 45 results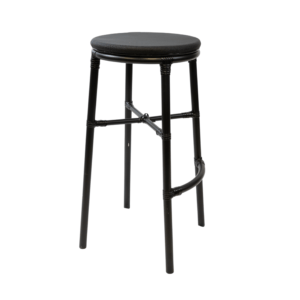 Quickview
Bar Stool – Black Luca